Laminate floors offer a visual appeal that is similar to timber floors, but at a significantly low cost. It is composed of multiple layers, which are bonded together offering it a visually appealing, cost-effective, and durable flooring solution.
Top protective layer – The glossy or matte finish as the top coating is tough. It is generally made from aluminum oxide. Besides, it is UV resistant making it less prone to fading.
Print layer – HD prints and textures are infused with resin to display many modern and unique designs.
Substrate/core layer – HDF or recycled material consisting of wood waste is pressed with wax or resin gets used in the core layer. This makes the laminate flooring sturdy yet economical. The layer is moisture-resistant, so the occurrence of warping or peeling gets prevented.
Bottom layer – Polymer-like melamine is used to make the bottom layer, which gives moisture-resistance and adds strength. Warping and swelling due to water accumulation beneath get prevented due to the material used.
Underlayment – This is not a component of the laminate floorboards, but is used to create a barrier between subfloor and laminate boards. It masks any imperfections or bumps in the subfloor. Besides, it helps to suppress noise and offers thermal insulation.
On FlooringDomain a directory committed to flooring solution, you can come across reliable laminate flooring suppliers and installers around your locality. Make sure to read the laminate flooring reviews before you make a choice.
Pros of laminate flooring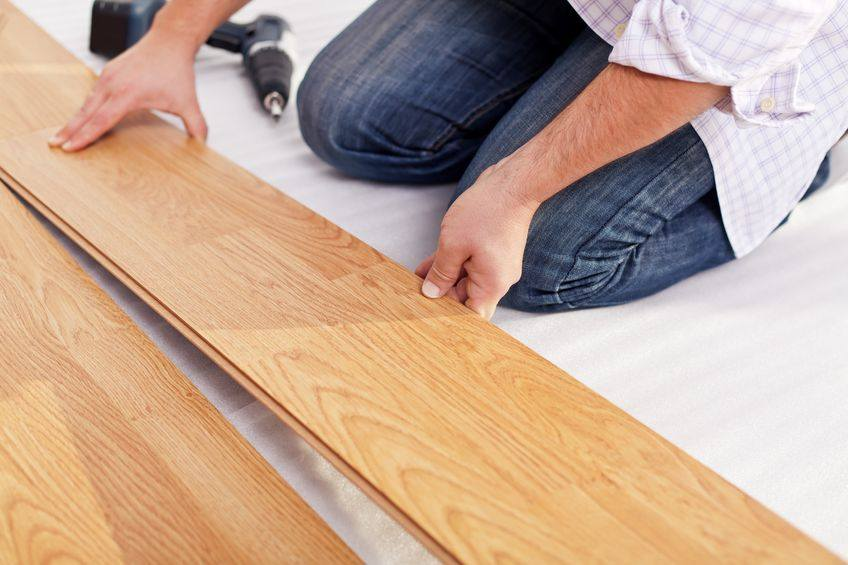 Value
Affordability is the main benefit of installing vinyl floorboards. It is cheap than timber and cork because you can install the vinyl floor over the existing floor. It means no expense on preparation. The self-locking laminate floorboards make installation easy and cheap. Quality laminate floors are hardly distinguishable from real wood flooring. It positions itself along with other valuable floor types – timber, oak, and tiles. Thus, increases property resale value.
Design & style
The laminate floor has a print layer, which can get customized. The designs and styles available are more than options accessible in bamboo or timber floorings. Technology development like deep texture and micro bevels have helped to create realistic imitating surfaces [like in brick, metal, or timber] in laminate flooring.
Comfort
Laminate floors are installed as floating floors, so they are thin and can feel less solid underfoot. Nevertheless, this is mitigated using underlayment, which cushions your feet. The finish is glossy and covered with non-slippery textures. An embossed or matte finish can be chosen for the elderly or children for better grippier flooring needs.
Durability
The top layer has a scratch-resistant coating, which makes it perfect for areas that receive high-traffic. Laminate flooring is not a good option in the kitchen, laundry room, and bathroom because these are wet areas. It cannot handle water for a long time.
Laminate floors need occasional sweeping and vacuuming. There is no need for polishing or waxing. Unfortunately, laminate flooring looks cannot be revitalized or resurfaced.
Health & well-being
Allergy sufferers can benefit from the interlocking laminate floorboards because there are no gaps that allow allergens to survive. Any grime buildup can be wiped with a broom or damp mop. Make sure to avoid poor quality laminate flooring, so check the emission level rating before you place an order.
Read laminate flooring reviews Australia, before you choose a supplier to understand which thickness is good and what kind of underlayment to opt for.