Throughout the United Kingdom, many people are installing bi-fold doors as modern technology makes them elegant, versatile, and easy to operate. Rollers and hinges are attached to the top of these door panels to allow folding inwards or outwards with ease.
These doors find suitability and application in almost every area of a house. They can open up space in between rooms to make way for a larger space. They can open up ways to gardens and even laundry rooms.
These glass doors offer an extended view of the outdoor and can illuminate the space of even a dimly lit room. The Bifolding door factory website is an apt place to find all varieties of customizable doors and their professional service can be easily trusted for quality and cost throughout the United Kingdom.
Common features of bi-fold doors
Thresholds:
The bottom slide track of these doors is termed as a threshold and can be of 2 types.
Weathered threshold is a slightly raised track that is installed for greater protection against harsh weather.
Non-weathered or level slide tracks are better suited to create a smooth path in the indoor areas and prevent sudden tripping.
Safety glazing of the glass:
Safety gazing strengthens the glass panels and prevents them from breaking easily.
By laminating a glass panel, an interlayer of plastic is provided which holds the door in place even if the glass breaks and prevents scattering of glass.
By heating the glass panel in a very hot furnace and suddenly cooling it, it creates a toughened that increases its strength by 5 times.
Laminated glass is a more preferred option as it provides thermal and noise insulation and is also more shock resistant.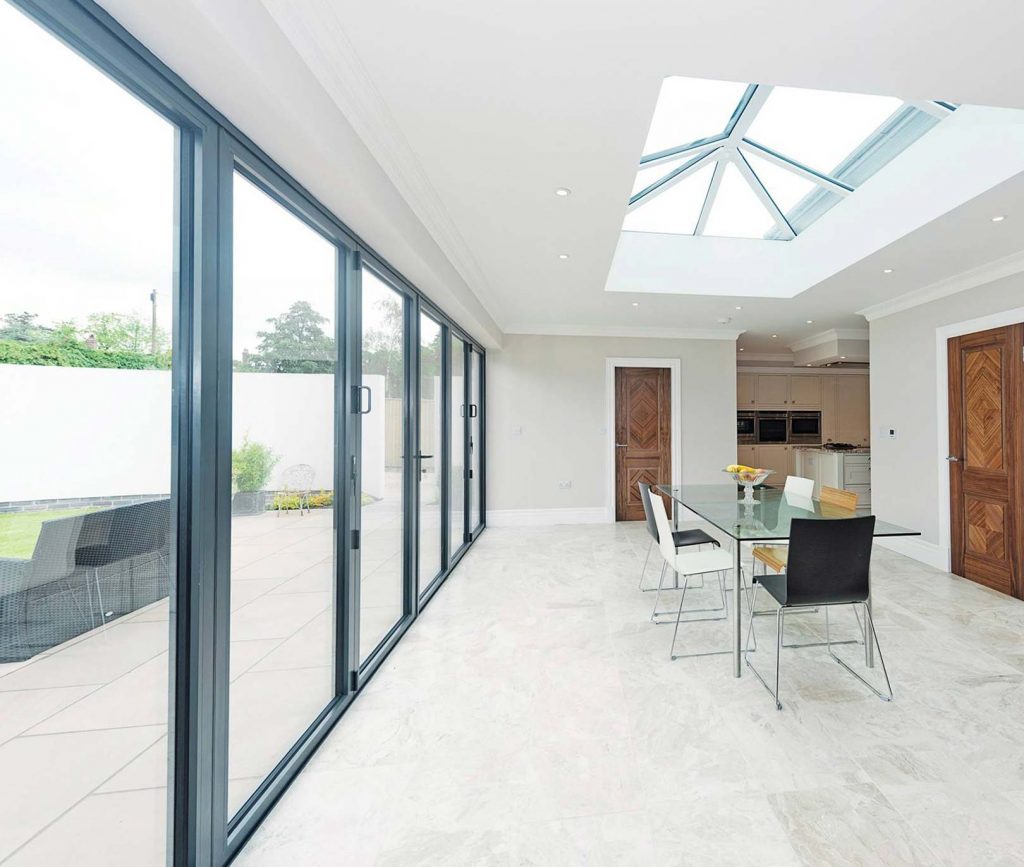 Thermal glazing:
This feature of the door keeps your house well-insulated even in harsh weather conditions.
Glazing is done by creating air or gas-filled cavities within the glass panes.
The standard protocol is to double glaze the glass panels.
Triple glazing is even better at energy conservation.
Safety and locking systems:
Multi-point lock system is characteristic of a bi-fold door.
The locking points are spread out on the frame and even the track of the door.
You get to customize your locking system from the standard 5 point lock to an elaborate 8 point system for additional security.
All modern bi-fold doors are equipped with heavy-duty metal handles and can withstand brutal force and attacks.
You also get finger-safety gaskets to prevent trapping during the opening and closing of the door especially when there are children in the house.
Magnetic catch secures the door in place after it is folded to keep it open.
The locking mechanism also makes these doors hurricane resistant.
Attractive colors and configurations:
Many arrays of colors and wood grain effects can be applied to the frame of the door to match your house interiors.
You can customize the glass panels to open in a specific order.
You can also tailor-make a bi-fold door to fit a corner space.
Bi-fold doors can fit any size and space of your house. They are so attractive, versatile, stylish, and not to forget modern. Ensure that you make your purchase from a reliable store as these doors can be expensive but can last a decade easily.